Interested in researching your Italian ancestry?
Join us for the IGG monthly meetings, live or virtually!
NEXT MEETING:
We're thrilled to once again welcome popular speaker Toni McKeen who will be presenting:
"Tips and Tricks for Effectively Using Ancestry.com"
(Toni was supposed to present this talk to our group "in person" in March, but the lecture was canceled due to the pandemic. Please note: this webinar will NOT be recorded or available after its presentation on 11/14.) 
TO REGISTER for this webinar, please visit: https://zoom.us/webinar/register/WN_hCUQ9b5HQDGEkTRdQwUuGA
– this talk is free and open to both members and non-members, so please feel free to spread the word!
Toni McKeen has been doing genealogy research on her own extensive Italian family, her husband's Irish family and son in law's German family for the last 33 years. She now has more than 9,800 of her closest family members entered in her Family Tree Maker program. Toni has identified relatives on extended branches who married into the family including those from various immigrant ethnic groups as well as others who have been here long enough to practically have greeted George Washington when he arrived.
For the last 15 years, while not doing continuing research on her own family, Toni has been teaching several levels of genealogy in her home town of Ridgefield, CT. (Eight classes weekly). Toni is on a mission to expose as many people as possible to the fun, excitement, and importance of tracing their own genealogy. She believes documenting your family history is important for yourself and for future generations, even if they are not interested or have the time now. Over the years she has taught over 4000 hours of genealogy courses at Founders Hall in Ridgefield, Redding, CT as well as Bronxville, Tuckahoe, and Mamaroneck, NY.
Toni has also been a popular lecturer at various genealogy societies in the New York, Connecticut, New Jersey, Boston, and Long Island areas.
---
Due to COVID-19, in-person meetings are not taking place at this time. We have held and intend to continue to hold Zoom meetings and webinars, and IGG members will be notified of these via e-mail.
Every second Saturday of the month from September through June, the Italian Genealogical Group presents a speaker discussing a topic relevant to Italian genealogical research. In person meetings are held at the Bethpage Public Library (Long Island, NY) and, in most cases, are also broadcast to our members worldwide via Zoom. Handouts and the exchange of genealogical events, websites and publications as well as research tips are readily available. Information and summaries of the monthly meetings are available online to members.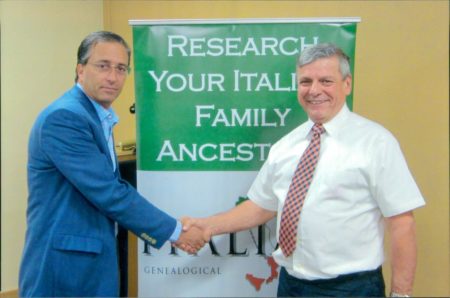 Meeting attendees will find an array of resources and guides to assist you in your research, including:
Help Desk: For those members who are fortunate enough to attend our meetings, we offer a Help Desk. Before each meeting, experts are available to offer advice or to discuss your genealogy research problems. (Please note: at this time, the help desk is only available at in-person meetings.)
Lending Library: The IGG maintains an extensive collection of books, magazines, CDs and DVDs. Members may borrow from the collection in person at meetings only.
Mentoring: There are key members who volunteer as mentors. Members who may be new to genealogy or are stuck and in need of guidance may ask for their assistance. The mentor does not do the research for you but will work with you and suggest methods that worked in their own research.
Bethpage Public Library
47 Powell Avenue
Bethpage, NY 11714
Meetings are held on the second Saturday of every month from 10:30 AM to 12:00 Noon
Assistance is available for beginning and advanced researchers in the auditorium lobby before the meeting. Please inquire at the sign-in desk.
Guests are always welcome.
---
Events
Part of the fun of being a member of the IGG is participation in outside events with other members. Our past events have included a cemetery crawl, historical tours, genealogy events, an annual holiday luncheon, Italian-American festivals and more! Information on upcoming events will be posted as they are scheduled.