Interested in researching your Italian ancestry?
Join us for the IGG monthly meetings, live or virtually!
NEXT MEETING:
Saturday, February 13th – 11:00 AM (Eastern) ("doors open" at 10:45)  (PLEASE NOTE NEW START TIME)
We're thrilled to once again welcome popular speaker Alec Ferretti who will be premiering a brand new talk, A-Files Boot Camp.
If you joined us for our January presentation with Judy G. Russell, Judy discussed the incredibly valuable things one might find in alien registration records. Alec's talk dives deep into the nuts and bolts of how one can obtain these records – using numerous (mostly Italian-American) examples.
Learn about the single most insightful file series pertaining to 20th century immigrants to the United States.  Held partially at the National Archives and partially by US Citizenship & Immigration Services, A-Files (short for Alien Files), exist for tens of millions of immigrants, spanning from immigrants who arrived last week to people born in the mid 19th century!  You may find handwritten letters, photographs, birth certificates from abroad, arrest records, and countless other documents!  This talk will explain who will have an A-File, how to locate them, and what information it might contain!
Alec Ferretti is a New York City-based professional genealogist, who works for the Wells Fargo Family & Business History Center.  He recently graduated from NYU and LIU's dual masters program, with degrees in archives and library science.  Alec is a regular lecturer at genealogical societies in the New York area, and has presented at numerous conferences around the United States.  He serves as the President of the New York Genealogy & Technology Group, an informal organization which meets bimonthly to discuss topics brought forth by members.  Alec was recently elected to the Board of Directors of the Association of Professional Genealogists, and serves actively on the Board of Reclaim the Records, a nonprofit dedicated to wrangling public records from restrictive government agencies.
Click here to register for this meeting – this talk is free and open to both members and non-members, so please feel free to spread the word! 
---
Due to COVID-19, in-person meetings are not taking place at this time. We have held and intend to continue to hold Zoom meetings and webinars, and IGG members will be notified of these via e-mail.
Every second Saturday of the month from September through June, the Italian Genealogical Group presents a speaker discussing a topic relevant to Italian genealogical research. In person meetings are held at the Bethpage Public Library (Long Island, NY) and, in most cases, are also broadcast to our members worldwide via Zoom. Handouts and the exchange of genealogical events, websites and publications as well as research tips are readily available. Information and summaries of the monthly meetings are available online to members.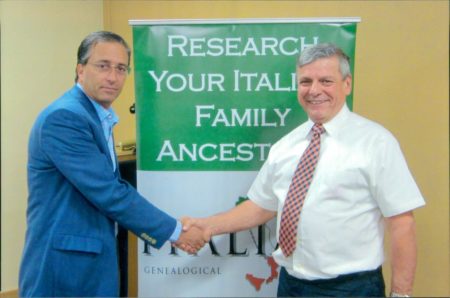 Meeting attendees will find an array of resources and guides to assist you in your research, including:
Help Desk: For those members who are fortunate enough to attend our meetings, we offer a Help Desk. Before each meeting, experts are available to offer advice or to discuss your genealogy research problems. (Please note: at this time, the help desk is only available at in-person meetings.)
Lending Library: The IGG maintains an extensive collection of books, magazines, CDs and DVDs. Members may borrow from the collection in person at meetings only.
Mentoring: There are key members who volunteer as mentors. Members who may be new to genealogy or are stuck and in need of guidance may ask for their assistance. The mentor does not do the research for you but will work with you and suggest methods that worked in their own research.
Bethpage Public Library
47 Powell Avenue
Bethpage, NY 11714
Meetings are held on the second Saturday of every month from 10:30 AM to 12:00 Noon
Assistance is available for beginning and advanced researchers in the auditorium lobby before the meeting. Please inquire at the sign-in desk.
Guests are always welcome.
---
Events
Part of the fun of being a member of the IGG is participation in outside events with other members. Our past events have included a cemetery crawl, historical tours, genealogy events, an annual holiday luncheon, Italian-American festivals and more! Information on upcoming events will be posted as they are scheduled.